Havazelet Ron
(1936-2013)

Yemenite singer, who was famous in East Germany (DDR) of 1964 and 1965.
She sang oriental Jewish songs in Hebrew, Yiddish, English and German language,
which she performed in tv- and radio-shows and in several concerts.
More info

Hear excerpts of some of her in Germany recorded songs
and read German biography of her here:


Havazelet Ron with Haroa Haktana:

Original signed autograph: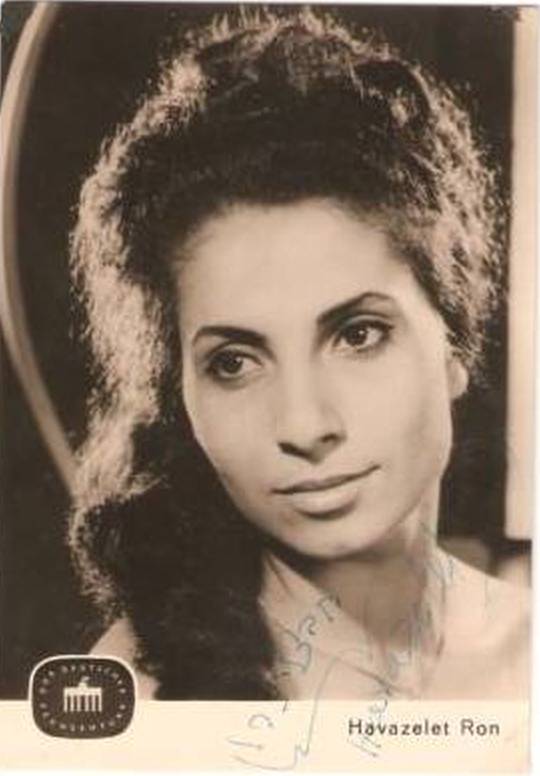 Update of 2011:
Recently I found these two articles among others about her in an Israeli newspaper archive:

Article of 1962:
Havazelet Ron sang in the club "Nachal Alexander"
in a place called Michmoret in 1962.



Article of 1960:
Poll - What to do with Eichmann:


Havatzelet Ron, born in Aden, 17 years in Israel, is a singer: "Like a fish, fry him with pepper and salt. his actions justify and stoning."
Update of 2018:
Revue in Hungarian ("The Morning" Newspaper, April 5, 1960)

A special luck for the young singer Havazelet Ron, these days. First, a LP record of her own has just appeared in the company "Makolit", which contains about a dozen original Yemenite songs, their wording, their language and their special tone.

Second, she became the star of the successful nightclub "Omar Khayyam."

And if that were not enough, she was invited to participate in the special performance of the Hungarian band in Israel.

She is always "rolling" to immigrant language bands, and even her debut on stage was in the Romanian theater of Haim Evron, founder of the "Immigrant Theater", which did not take root, as suggested by singer Leah Deganit.


Update of 2012:
I found out that Havazelet Ron recorded some nice songs in 1961 in Tel Aviv.
Here you can listen to one of them:

Finally I found out the mystery about Havazelet Ron, when her son contacted me.
There unfortunately I learned that Havazelet sadly passed away this February.
I wish we would have been in contact before...
Some interesting facts:

After Havazelet Ron, (born as Havazelet Damari), was famous in East Germany (DDR),
she met someone in West Germany and got married in 1968.
Before her son was born in 1969 she left the entertainment business and became a housewife.
The young family happily lived in Mannheim (West Germany) until 1980.
Then they moved to Israel and stayed until 1984, when they went to Los Angeles (USA).
Later Havazelet Ron worked as a kindergarden teacher and enjoyed her grandchildren.

During her years in the entertainment business Havazelet recorded several vinyl records,
performed in various tv shows and toured with a group through several countries (e.g. Bulgaria).
Havazelet Ron - Kirya Yefeyfiya:

Update 01/2014:
I learned from Havazelet's son that she recorded a LP in the early 60s or late 50s in Israel:
The Music Of The Desert - Original Yemenite - Makolit 33 1/2 L.P. 170
חבצלת רון - מנגינות מהמדבר
Havazelet Ron - Loz Ou Gahgah:

If you have any further more info about recordings by Havazelet Ron, please contact me (connydrees (at) web.de)!

update 02/2014:
Original signed autograph of 1965: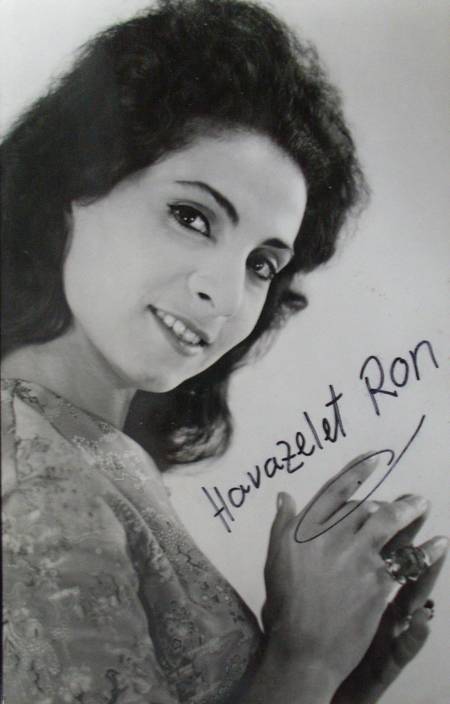 Song list of all songs by her, which I know about:
Songs, recorded in Israel, 1961:

1. Afatach Se'ari Mul Ruchot Kalili
2. Bat Ha Carmel
3. Debka Uriah
4. Hashkini Verawa Chiki Hashkini Na
5. Ma Yafu Dodaich Achati Kala


Songs, recorded in Israel, unknown date (Makolit LP 170):

1. El Warda
2. Dabia
3. Rengaz
4. Shabasi
5. Loz Ou Gahgah
6. Faisila
7. Madaa
8. Hobaibi
9. Toushih Alikom

Songs, recorded in East Germany (DDR):

1. Kirya Yefeyfiya (14-09-1963)
2. Sag mir wo die Blumen sind (09-01-1964)
3. Bolero d'amour (13-02-1964)
4. Tum Balalaika (05-06-1964)
5. Einsam stand ein Mädchen am Strand (05-06-1964)
6. Haroa Haktana (05-06-1964)
7. Shlosha Hatoulim (09-06-1964)
8. Tiyul Leili (03-07-1964)
9. Über Land und Meer (03-07-1964)
10. Hava Nagila (21-10-1964)
11. Heveynu Shalom Alechem (20-02-1965)
12. Dona Dona (20-02-1965)
13. Hava netze bemachol (20-02-1965)
14. Roeh veroah (20-02-1965)
15. Ma Yafim Haleylot (20-02-1965)
16. Im Haruach (28-05-1965)
17. A bissele Massel (28-05-1965)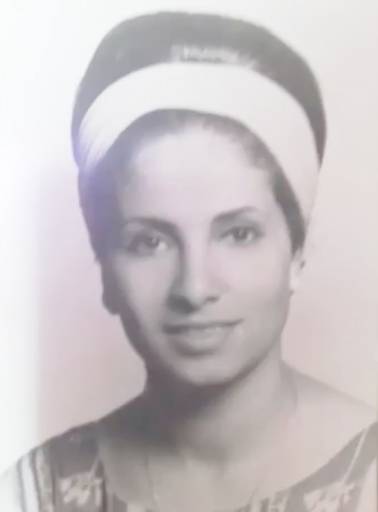 chhavatzelet havazelat havatselet ron chawatzelet chawazelet chavazelet chavatzelet khavazelet khawatzelet khawazelet hawatzelet hawazelet ron חבצלת רון israeli singer israel yemen jemen jemenitisch jemenitsche sängerin ddr schlager schlagersängerin tum balalaika tumbalalaika shoshana damari
back

© 2010-2018 by www.jewish.songs24.de